Benefits
Food safety is non-negotiable, which we take to heart at OctoFrost for our machine development and innovation. The unique design features of the OctoFrost™ IQF tunnel Freezer make it possible to clean the inside of the freezer thoroughly. All freezer models can be equipped with spray balls and nozzles system for defrosting and cleaning.
Natural Appearance

The optimal airflow and the uniquely designed bedplates of OctoFrost IQF freezer ensure the gentle handling and good separation of products, which results in a natural-looking and appealing product.




Energy Efficiency

The smallest freezer on the global market, compared to other IQF technologies, it consumes 30% less energy for the same production capacity.

The combination of perfect aerodynamics, adjustable fan speed, exchangeable bedplates, and unique coil design in OctoFrost freezer contribute to sustainable production.




High Yield

Optimal aerodynamics in the OctoFrost Freezer locks in the moist of product and eliminates the chances of getting snow formation, therefore reduces product dehydration. OctoFrost achieves the lowest dehydration in the market.




Food Safety

OctoFrost IQF Freezer is designed with rounded corners, exchangeable bedplates and sloping surfaces inside and equipped with a Clean in Place system for an easy and thorough cleaning, exceeding all international hygiene standards and requirements for a safe production of IQF vegetarian meat.



IQF Technology
The optimal thickness and the holes' configuration of OctoFrost bedplates create a pressure drop that avoids dead zones, resulting in low energy consumption and excellent freezing results.
Rounded corners and sloping surfaces inside of OctoFrost IQF Freezer contribute to easy drainage and food safe production.
Adjustable fans furnished with frequency converters for each freezing zone to achieve energy efficiency and optimal airflow for different product types.
No need for floor heating with the Free-standing design of OctoFrost IQF Freezer which enables a thorough cleaning under the freezer.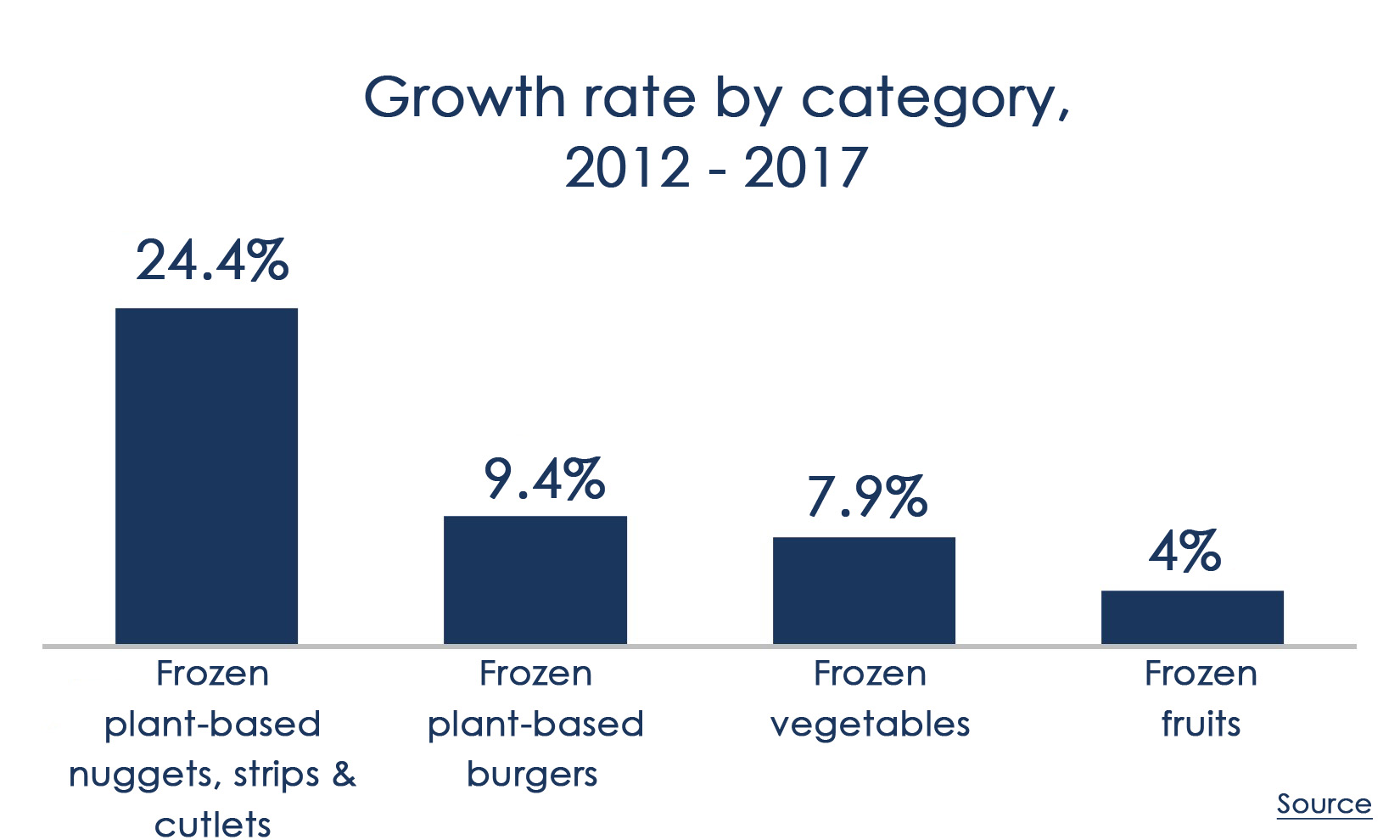 THE FUTURE LIES IN THE PLANT-BASED SECTOR
With convenience remaining as a principal requirement, consumers are clearly changing their behaviors based on the commitment to a healthy lifestyle, animal welfare and environment, causing a disruption in the food industry as we know it. The plant-based meat market's annual growth rate is anticipated to reach as high as 8.6% between 2020 and 2025, and all regions around the world seem to experience this growth at significant rates.
PLANT-BASED IS DRIVING THE FROZEN FOOD MARKET
Reports show that consumer inclination toward vegan frozen food is one of the key factors driving frozen food market growth. Processors are reacting to this shift by continuously launching new products, such as vegan frozen burgers, fillets, and vegetable balls. The market has registered an impressive growth rate of 18.4% for frozen vegetarian meat sector exceeding by far the growth of frozen fruits and vegetables: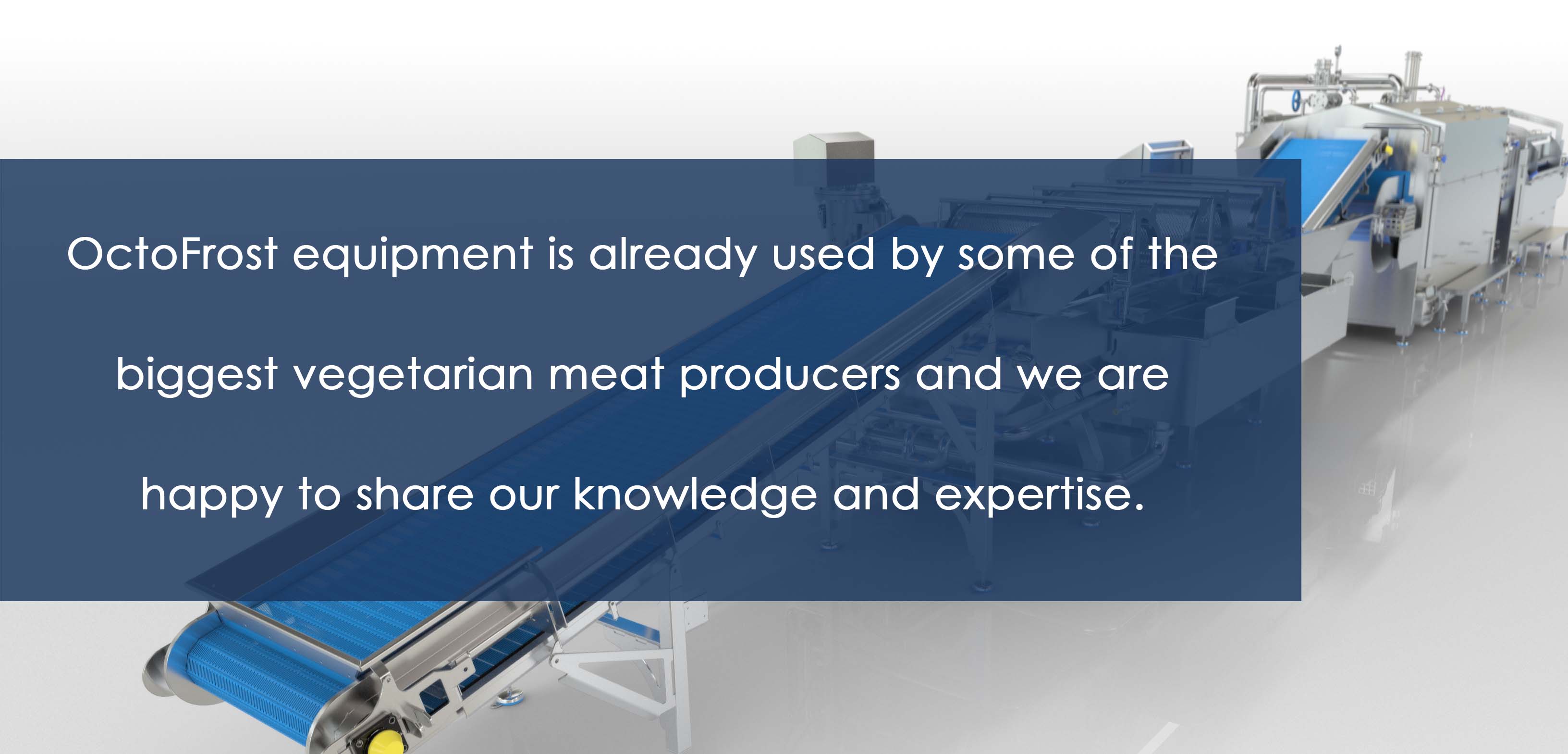 When it comes to IQF freezing, OctoFrost is a globally-recognized expert and whether you are an experienced processor or a visionary newcomer to this industry, we invite you all to travel this journey with us.
Here is what we have learned to be important for a vegetarian meat processor.
FOOD SAFETY: is a top priority for all food processors and OctoFrost IQF Freezer is designed for thorough but easy cleaning, guaranteeing a safe production of IQF vegetarian meat.
LOW DEHYDRATION: Optimal aerodynamics in the OctoFrost Freezer locks in the product's moisture and eliminates the chances of getting snow formation, therefore reducing product dehydration. Our customers state that OctoFrost achieves the lowest product dehydration on the market.
ENERGY EFFICIENCY: OctoFrost IQF Freezer consumes in average 30% less energy than other IQF technologies for the same production capacity. The combination of optimal aerodynamics, adjustable fan speed, no downtime for bedplates change contribute to low operation costs and an overall sustainable production.
Equipment suited for processing vegetarian meat